T-Rex miner Is a program for mining on video cards with support for a large number of algorithms. The code is posted on GitHub, which inspires confidence in the miner. There, on the page, the developers set out their thoughts and views on the future of the project. The plans are to increase the performance, taking into account the equipment used. The T-Rex miner itself is designed for green video cards by Nvidia. Who has not come across the concept, this is equipment with a chipset from Nvidia. In 90% of cases, the cards of this particular manufacturer are used by a domestic miner. The system supports Windows and Linux, which makes you pay attention to the program even more.
The miner development team is doing everything possible to keep the miner up to date with the latest algorithms, introducing new features requested by the miner community, including unique ones such as automatic updates and remote control of the miner via HTTP API, as well as making sure that the miner was very stable. and is capable of supporting your GPUs 24/7.
Where to download TRex Miner
You can download the latest version of T-Rex Miner 0.24.5 for Windows and Linux by clicking below:
---
Updates / Releases
Update v0.24.5
( autolykos2) The double buffer function in 0.24.4 is not automatically activated if --lhr-tunenot stated otherwise.
Update v0.24.4
( autolykos2) Increase the hash rate on the pool side by 1-4%.
The miner now generates a dataset for the next ERGO block before it arrives with a small penalty to the reported hash rate, and when the next block does arrive, it immediately starts hashing without wasting 1-4 seconds while creating the dataset.
In this mode, the memory requirements are doubled because the GPU must contain two memory buffers. If the GPU does not have enough memory for two datasets, the miner will fall back to working in single buffer mode.
To take full advantage of this mode, it is recommended that you do not set a power limit, but instead limit your power consumption using--lock-cclock- this will allow the miner to consume more energy during the recovery of the dataset and not lose the hash rate. If you prefer to keep your power consumption constant, you can still set a power cap, however, in this case, you will notice a slight drop in the hash rate after each block.
Note that in both cases the miner should give you a higher hashrate on the pool side in the long run compared to previous versions. The hashrate reported by the miner now fully takes into account the creation time of the dataset.
( kawpow, firopow) Report hashrate to the mining pool
(WebUI) Add support for displaying multiple rigs (nodes) on one page; various improvements and fixes
Add --devices-infoparameter to the list of available CUDA devices
Error correction:
( ethash, autolykos2) LHR lock detection is triggered by a short-term drop in hash rate, for example, when you turn on a monitor connected to the GPU.
The original overclocking settings are not restored when turning off the miner in dual mining mode (only applicable when overclocking GPUs using t-rex)
(WebUI) Unable to install --gpu-report-intervalв 0(disable)
(WebUI, API) GPUs sometimes pause with significant lag (should be immediately)
Update v0.24.2
( autolykos2) Enable LHR unlock functionality
Cm https://github.com/trexminer/T-Rex/wiki/LHR#ergo for more details
( ethash, autolykos2) Add auto-tuning function to unlock LHR (it is enabled by default, see --lhr-autotune-modeIn the readme)
Now the miner will try to increase --lhr-tuneif it is stable at its current value, so you know what maximum LHR your card can handle without manually trying many values.
If you want the miner to stay at the LHR setting value you set yourself no matter what, use --lhr-autotune-mode off.
Add mining mode ETH + ZIL with an arbitrary ETH pool (no proxying through the ZIL pool)
See *.bat/*.shETH + ZIL file in the miner's archive
New parameter --no-new-block-infoto stop messages about a new block from appearing in the miner's console.
(WebUI) Upgrade interface for dual mining operation (algorithm switch button in the upper right corner)
Error correction:
( kawpow) Decreased hash rate in version 0.24.0 on some configurations.
Update v0.24.0
LHR unlocks dual mining mode:
you can now mine ETH (~ 30% of full speed) and other coins (~ 70%) simultaneously with LHR cards, using their full potential.
Available combinations along with memory requirements:

ETH + ERGO (8 GB +)
ETH + RVN (8 GB + on linux, 10 GB + on windows)
ETH + CFX (10 GB +)
See Https://github.com/trexminer/T-Rex/wiki/LHR on how to set it up.
The WebUI has not yet been updated to reflect the statistics of the second algorithm in dual mode, but will be in the future.

( ethash) Changes and improvements to the "standard" unlock LHR:

automatically detect LHR cards even if they --lhr-tunenot listed
new parameter --lhr-low-powerreduces power consumption in LHR mode due to slightly lower hashrate (starting from --lhr-tune 68)
change --lhr-tunescale compared to version 0.23.2, it now shows the percentage of the total GPU hash that the miner is trying to achieve. Old values ​​in the range [1-8] are automatically mapped to the new scale, no configuration change is required.
Recommended starting values ​​for LHR tuning: 71in normal mode, 68in low power mode (this does not apply to dual mode)
Update v0.23.2
NOTE, this is an important update for HiveOS users mining CFX (see. octopusBug fix below).
Error correction:
( octopus) CPU check incorrectly detects invalid shares after changing epochs
( autolykos2) Miner sometimes crashes when --validate-sharesturning on
(WebUI) Many fixes and improvements:
added compact mode with hidden diagram;
fixed rounding of numbers along the chart axes;
fixed wrong hash / power labels in tooltips;
authorization allowed with existing session id (/ trex? Sid = xxx - for API users))
Update v0.23.1
NOTE: this version includes several breaking changes: reordering the GPU and removing the telnet API. Before updating, make sure you remove the GPU-specific OC settings from *.bat/ *.shfiles.
Auto updates will not be enabled for this version for the same reason.
Users of HiveOS and other mining operating systems that force the GPU order on the PCI bus are not affected by GPU ordering.
Ability to generate configuration files
Improved API security: optional password and https
GPU / Memory Frequency and Difficulty Reporting
View log
Ability to pause GPUs
If you don't like the new WebUI and prefer to use the old one for whatever reason, download the archive webui.zip , place it next to t-rexexecutable file and restart the miner.
Ordering GPUs by PCI Bus ID. You may need to change the settings depending on the GPU order.
Remove telnet API
Multiple bug fixes
Update v0.22.1
( ethash) Added LHR partial unlock function for 30xx cards. Cm. Https://github.com/trexminer/T-Rex/blob/master/LHR.md for more information.
Add firopowalgorithm for the upcoming FIRO hard fork.
( kawpow) Add function to check CPU share for all algorithms like progpow
Add compatibility with CentOS 7
Error correction:
( octopus) CFX mining broken in 0.22.0
( autolykos2) CPU share check broken
Switching to standby pools takes too long
Stability fixes
Update v0.22.0
Known Issues : CFX mining doesn't work, use 0.22.1
Update v0.21.6
(Windows) Add additional minimum / maximum fan speed limits in auto fan mode (see p. --fanAdditional information)
(API) Add timestamp of last sent share ( last_submit_ts)
Error correction:
( autolykos2) Improved compatibility with mining pools
Command line parameter --workerdoes not take precedence over the parameter specified in the config file.
(API) Suspending miner via HTTP POST does not work
--fork-at functionality is broken
Cosmetic UI fixes
NOTE ... Telnet API will be removed from miner in next release as it is replaced by HTTP API.
Update v0.21.5
(Linux) Add support for GPU power cap control ( --plsee parameters for details)
Error correction:
( autolykos2) Issue of duplicate shares
(Windows) Fans will spin up to 100% in auto fan mode if the GPU temperature is much lower than the target temperature.
watchdog-exit-modeThe (Web UI) parameter is missing in the configuration
Update v0.21.4
( autolykos2) Minor performance improvements (mostly Pascal GPUs)
(Windows) Increase the fan speed to 100% in auto fan mode.
Error correction:
( autolykos2) Invalid promotions when mining ERGO on NiceHash
( mtp) ntime out of rangeи Low difficulty shareErrors
Update v0.21.3
( autolykos2) Low hash rate on the pool side when mining ERGO on Nanopool
Update v0.21.2
bug fix: (autolykos2) Low hash rate on the pool side due to incorrect shares
Update v0.21.1
bug fix: (autolykos2) Low hashrate on the pool side due to unnecessary creation of datasets
bug fix: (autolykos2) High CPU usage in some configurations
bug fix: (Windows) Fan speed settings are not reset when exiting the miner
bug fix: (Windows) The system freezes after turning off the miner if the overclocking settings are applied with --cclock or --mclock
Update v0.21.0
Algorithm added autolykos2 for mining ERGO (dev fee 2%).
(Windows) Display memory temperature if available (can also be used with auto-fan, in more detail --fan)
bug fix: (Windows) Overclocking settings are not restored if the miner terminal is closed by pressing the button X
bug fix: Total power consumption is not displayed if some GPUs do not report it. (# 516)
Update v0.20.4
Add the –lock-cclock parameter to lock the GPU core clock speed
(Windows) Add –lock-cv option to lock GPU core voltage
(Windows) Add –pstate parameter to lock GPU performance / power state (currently p0 is the only supported value)
(Windows) Allow values ​​greater than 100% to be passed to -pl if the GPU supports it
Reducing miner startup time
Bug fixes:
T-Rex has problems with GPU, terminating ... error when changing system time as a result of time synchronization
(ethash) ethproxy mode violated
(Windows) NVAPI_NOT_SUPPORTED error when passing out-of-range values ​​to –mclock, –cclock, etc.
GPUs continue to consume significant amounts of power even after being shut down due to overtempera-limit
Miner does not start with -mt parameter specified if video drivers are older than 410.xx
(Web interface) Miner cannot start after saving configuration file via web interface
- - the help command queries the GPU status, preventing the display of the help message if the NVIDIA driver is not installed.
Update v0.20.3
(octopus) Added support for checking share using parameter --validate-share
(Windows) Improvements to the auto-fan algorithm
Enabled miner shutdown when the predefined maximum total power consumption is exceeded (see. --exit-on-high-power in the readme)
fix: (ethash) Pascal and Turing GPU performance degradation introduced in previous version
fix: (Windows) Memory settings (--mt) can only be applied to the first GPU.
fix: (Linux) Miner does not start after saving configuration file via web interface.
fix: The miner does not start if the password is not specified (-p)
fix: Custom script specified with --script-on-exit, not executed when the miner exits via the web interface.
fix: Minor cosmetic fixes
Update v0.20.1
(Windows) Added experimental support for the "automatic fan" function: the miner adjusts the GPU fan speed to maintain the specified core temperature, more details in --fan.
(API) Added the miner state to the output of the summary handler (paused - true/false)
--extra-dag-epoch can now be set for each GPU
fix: Miner crashed during installation --validate-share
fix: Incorrect beat difficulty suffix when the difference is more than 1000G
fix: (Web interface) Hashrate graph reset at midnight
fix: Manually selected kernel number was not displayed at startup
fix: Incorrect parsing of the failover pool configuration arguments (multiple -o and one pair -u / -p call empty username / pass for pools)
Update v0.20.0
Removed old and rarely used algorithms (x25x, x16r other.)
Merged all CUDA assemblies into one binary
(Windows) Add parameters --pl, --mclock и --cclock to manage GPU power limiting, memory and core clock speeds.
(UI) Displays the maximum exchange difficulty, if set --validate-share
(Windows) Remove dependency on Visual C ++ Runtime.
fix: --script-epoch-change script does not execute when switching to ZIL in dual mining ETH+ZIL
fix: (API) Crooked GPU order in API when installed --pci-indexing
fix: Various stability issues
Update v0.19.14
(octopus) Minor performance improvements for 16-series GPUs
(ethash, etchash) Added parameter --validate-shareto enable sharing checking and display the difficulty of sharing
(Windows) Added parameter --fan for GPU fan speed control
fix: Memory settings did not affect some 1060 cards (you may need to check overclocking settings if your GPUs started to crash)
fix: (Linux) Miner won't start after Linux kernel update
fix: (API) Invalid statistics if energy reporting is not supported.
fix: Various UI fixes
Update v0.19.12
Added ethproxy (getwork) mod (connect url - example: -o stratum+http://127.0.0.1:8080)
fix: Security vulnerability that allows creating / modifying PC files when API is bound 0.0.0.0 в --api-read-only mode
fix: No connection bug
fix: --watchdog-exit-mode did not always restart the PC in r mode
Update v0.19.11
IMPORTANT NOTE. This release is mainly a security fix for a miner API binding vulnerability to an IP address 0.0.0.0 by default, which opens access to it for the outside world and allows you to perform various attacks. Therefore, we strongly recommend that you upgrade to this version OR specify --api-bind-http 127.0.0.1:4067 --api-bind-telnet 127.0.0.1:4068 as additional miner arguments in your bat / sh script to prevent these attacks.
If you need to access an API or web interface from another device on your local network, you can bind the API to 0.0.0.0:4067, in which case it is recommended to disallow any configuration changes using the flag --api-read-only... or configure your firewall to prevent unauthorized API access. Security features such as API password may be added in future releases. If you are using one of the Linux based mining operating systems like HiveOS, mmpOS, etc. you most likely won't get hurt as they bind the T-Rex API servers to by default 127.0.0.1.
fix: (API) Bind the API server to 127.0.0.1 by default to prevent unauthorized API access.
fix: (API) Miner pause functionality was broken (regression)
Update v0.19.10
(API) Added the ability to pause individual GPUs via API (see. pause API readme)
(API) Added GPU PCI address to summary handler
Added parameter --script-exit to execute the script when exiting the miner
fix: Some custom scripts specified in parameters were not executed --script-start, --script-epoch-change etc.
fix: (ethash) GPU is idle, error while generating DAG
fix: (Linux) Miner fails to start in some Linux distributions with error TREX: …
---
Video review and setup
Advantages of the program
What else can be highlighted as an obvious benefit? Support for more than 30 algorithms. Thus, mining becomes universal. Perhaps this is the first universal mining program created for the domestic market with its own page on GitHub, that is, open source. Comfortable, honest, versatile. And support will definitely not refuse just on the basis that you do not speak English well or do not speak it at all. Whoever mined at the very beginning of the era understands.
Usage fee TRexminer is 1%. Developers take it. Given that such a board is installed for almost all algorithms, the domestic miner using T-Rex miner, is in more favorable conditions. The exception is the Tensority algorithm with a 3% commission. In general, if every 2 hours the equipment operates for just over a minute per program, then the conditions are very favorable.
Among other advantages, the following characteristics can be distinguished:
t-rex miner download can be publicly available.
Setting up t-rexminer does not require professional knowledge.
Progressive algorithms of work.
Open access code.
Simple interface.
Maximum parameters for tracking.
Working with any pools.
Favorable remuneration.
Anyone can become a miner using the program. t-rex miner independently carries out the connection, monitors the parameters of work. You need to purchase a video card and join the pool. The miner will do the rest himself.
T-Rex miner positions itself as a program for the user, promising to implement the functions requested by the community itself. Among the innovations already introduced into the program are automatic updates, remote control via HTTP API, monitoring of the operation and compatibility of GPUs online 24 hours a day. These advantages make mining affordable even for dummies, and the latest update also guarantees security, which is very important for mining on video cards.
What algorithms does the program support?
T-Rex miner will allow you to use 2 really very common and popular algorithms: x16rv2 and MTP. The first one uses the coin of the future Ravencoin, and the second one allows Zcoin to be mined. Thus, the developers provide an excellent support for novice miners.
All algorithms
etchash
polytimos
geek
octopus
phi
sonoa
mtp
x16s
x16rv2
sha256t
C11
x21s
x25x
X22i
x11r
x16s
x16rt
x17
timesravel
progpow
tensority
s
balloon
thimble
progpow-veriblock
tribes
etchash
bitcore
ethash
BCD
progpow-veil
renesis
lyra2z
hmq1725
honeycomb
kawpow
progpowz
sha256q
GLT algos: astralhash, jeonghash, padihash, pawelhash
The most profitable algorithms at the time of this writing are altcoins:
Ravencoin (RVN) X16R hash algorithm;
Zcoin (XZC) MTP;
HelpTheHomeless (HTH) X16R;
Gincoin (GIN) X16RT;
SUQA (SUQA) X22i.
Here are the results for mining Zcoin XZC on the MTP algorithm:
| | |
| --- | --- |
| Nvidia GTX 1060 6gb | 1.6 |
| Nvidia GTX 1070 8gb | 2.1 |
| Nvidia GTX 1070Ti 8gb | 2.65 |
| Nvidia GTX 1080 8gb | 3 |
| Nvidia GTX 1080Ti 11gb | 3.65 |
| Nvidia GTX 1660 6 gb | 1.5 |
| Nvidia GTX 1660Ti 6gb | 2.3 |
| Nvidia RTX 2060 6gb | 2.1 |
| Nvidia RTX 2070 8gb | 2.6 |
| Nvidia RTX 2080 8gb | 3.5 |
| Nvidia RTX 2080Ti 11gb | 4.3 |
Even more profitable projects may appear tomorrow. Developers periodically release new versions of software with wider functionality. It is necessary to regularly monitor the network, observing the prices of cryptocurrencies and the emergence of new blockchain assets. But you don't have to worry about updating the miner, the t rex program has a built-in auto-updates function.
T-rex miner setup
If you have already T-Rex miner download, move on to setting up the software. We run the program using the command line in Linux and through the bat file in Windows. T-Rex miner customization through the bat file is made individually for each cryptocurrency.
T-Rex miner setup: run .bat file for T-Rex
Right-click on the bat file, select "Change" from the menu.
A list of commands is displayed in an open text document. The - u key stands for a digital wallet. We will change it.
Complete in detail T-Rex miner customization using a bat file on Windows looks like this: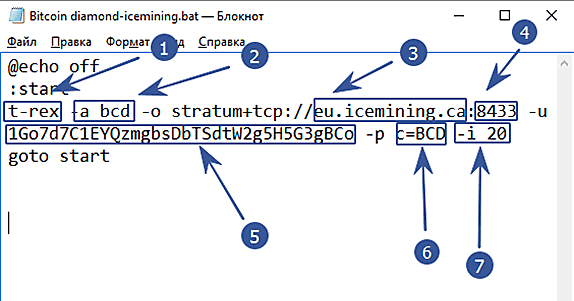 - t-rex - the name of the program.
-a bcd - the name of the algorithm.
-o stratum + tcp: //eu.icemining.ca - pool adres is indicated. The -o stratum + tcp: // construct is required.
: 8433 - after the address of the pools, put a colon and indicate the port.
-u 1Go7d7C1EYQzmgbsDbTSdtW2g5H5G3gBCo - after the -u switch, indicate your own digital wallet address.
-pc = BCD - the command serves to indicate the token of the coin. This is necessary for the pool to see which coin will be mined.
-i 20 - indicates the intensity of work.
T-Rex launch
Let's look at mining and launch using the Bitcoid Diamond coin as an example. Regardless of the mining algorithm, the launch of the program will be the same. Launch the batch file by double-clicking on the mouse. Next, in the console that opens, we look at what the program writes. If a t-rex miner setting successful, then the window in a properly configured miner contains the following items: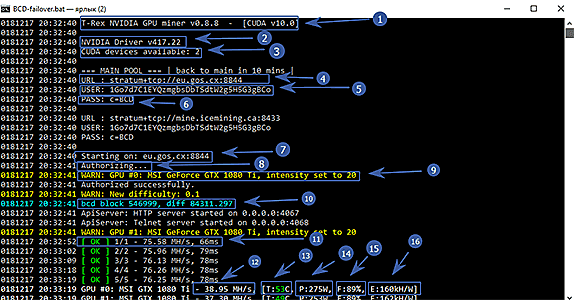 The version of the miner itself.
Driver version.
A range of graphics cards available.
Pool. It should be the same as indicated in the batch file.
The wallet address is similar to the pool address.
The password is pool. If a password is not used for communication, you need to enter a coin token for mining. If the password is used, but there is no connection, then you also need to enter a token. By default, 90% of the pools work this way.
Next, the program will configure the connection itself.
After the established connection, the program will offer to log in to the pool.
The intensity of mining in the program settings corresponds to 20. This value was set in the settings in the batch file when entering the parameter - i.
Block and difficulty of the coin.
Hashrate farm. By default, the general hash rate of all used video cards is registered.
Hashrate cards.
Her temperature.
Electricity consumption.
Fan speed. It is measured by the revolutions of its blades.
Efficiency in Kh / Watt
This completes the program setup.